Dionysios Koulougliotis
Institution: Technological Educational Institution of the Ionian Islands
Country: Greece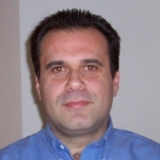 Dionysios Koulougliotis is an Associate Professor in the Department of Environmental Technology and Ecology at the Technological Educational Institute (TEI) of Ionian Islands (Zakynthos, Greece).
He earned his Bachelors degree in Physics (University of Athens, Greece) and his Masters and Ph.D. degrees in Biophysical Chemistry (Yale University, USA).
He has conducted postdoctoral research at the Department of Chemistry of the University of Florence, at the Max-Volmer Institute for Biophysical Chemistry in TU Berlin and the Laboratory of Photosynthesis of the Institute of Materials Science in NCSR "Demokritos" – Greece.
His current research interests are divided in two main fields: Antioxidant and antimicrobial properties of essential oils isolated from aromatic plants and educational research focused on chemistry.
He acted as the Manager of the Greek team of the recently funded project "Chemistry is All Around Us" of the Lifelong Learning Programme (Leonardo da Vinci subprogramme).
Area of Expertise: Physics and Biophysical Chemistry