Dionysios Koulougliotis
Institution: Department of Environment - Ionian University
Country: Greece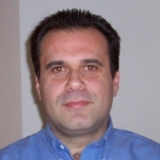 Dionysios Koulougliotis is currently a Professor in the Department of Environment at Ionian University in Zakynthos, Greece.

He earned his Bachelors degree in Physics (University of Athens, Greece) and his Masters and Ph.D. degrees in Biophysical Chemistry (Yale University, USA).
He has conducted postdoctoral research at the Department of Chemistry of the University of Florence, at the Max-Volmer Institute for Biophysical Chemistry in TU Berlin and the Laboratory of Photosynthesis of the Institute of Materials Science in NCSR "Demokritos" – Greece.
His current research interests are related with science education and physicochemical properties of foods.
He has acted as Principal Investigator (for Greece) of two European projects funded by the Lifelong Learning Programme namely "Chemistry is All Around Us" and "Chemistry is All Around Network".
Area/s of Expertise: Biophysical Chemistry, Science Education.