Filomena Barreiro
Institution: Instituto Politécnico de Bragança
Country: Portugal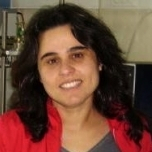 Filomena Barreiro has graduated in Chemical Engineering in 1990, at the Engineering School of the University of Porto (FEUP). In 2000, and also at FEUP, she obtained the Ph.D.

She joined the Polytechnic Institute of Bragança (IPB) in 1995 where she is Adjunct Professor at the Chemical and Biological Department (DTQB).

Since 2000, she is a member of the research staff of the Laboratory of Separation and Reaction Engineering (LSRE). Her main research interests are synthesis and characterization of polymeric materials with special emphasis to polymeric materials from renewable resources.
Area/s of Expertise: Synthesis and Characterization of Polymeric Materials (Special Emphasis to Polymeric Materials from Renewable Resources).