Michael Taber
Institution: Colorado College
Country: United States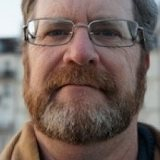 Mike Taber is professor of science education at Colorado College and the past-president of the National Associate of Geoscience Teachers (http://nagt.org/index.html).
Mike's expertise is in water resources, climate science, science curriculum, learning theory, and science education.
Mike is currently professor in the education department at Colorado College in Colorado Springs, Colorado, USA.

Mike graduated with Ph.D. in Water Resources from Iowa State University in 1999 following a bachelor degree in Geology (1986) and Master of Arts in Teaching Degree (1987), both from Colorado College. Since Iowa State, Mike was a post-doc at Northwestern University in Evanston, Illinois, where he worked on Environmental Science Curriculum. In 2000, Mike accepted an appointment at the University of Northern Colorado where he was an assistant, then associate professor of Earth Science Education. In 2006, Mike r-joined his alma mater, Colorado College, where he now resides.

Mike has science education expertise in integrating science and math curriculum and learning theory, particularly on the focus of using authentic, contextual-based data as a driver for learning inquiry.

For much of the past 15 years, Mike has had several research funded projects from the National Science Foundation (NSF) and the Funds for the Improvement of Post-Secondary Education (FIPSE). The research projects focused on the use of geoscience data for learning. His FIPSE project was with colleagues from the Federal University of Juiz de Fora in Juiz de Fora, Brazil. The project focused on environmental issues and sustainable solutions.

Mike and his colleagues from Brazil are currently working on a large resource volume for teacher educators. The volume focuses on case studies and best practices associate with water education. The goal of the volume is to empower teacher educators across the globe to provide future teachers with scientific knowledge and curricular solutions to tackle local, context water-related concerns.
Area/s of Expertise: Water Resources, Climate Science, Science-Math Integrated Curriculum, Learning Theory, Data-Driven Inquiry.