Fuad Aleskerov
Institution: HSE University
Country: Russian Federation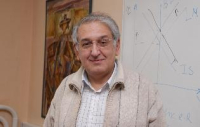 Fuad Aleskerov is the Head of International Centre of Decision Analysis and Choice and the Chair of the Department of Mathematics for Economics in National Research University Higher School of Economics
He is a member of Academia Europaea (2018), foreign member of Finnish Academy of Science and Letters, April 2021, a member of 10 scientific societies.
He gave more than 300 invited papers on conferences, congresses and symposia, more than 100 of which are international; more than 90 invited lectures.
He is a member of editorial boards for 17 high level journals.
He published 12 books, more than 250 articles, more than 100 articles have been published in peer-reviewed journals and volumes.
Area/s of Expertise: decision theory, mathematics of conflict, individual, social and multicriterial choice, graphs and networks, game theory, data analysis, operations research