Sabrina Grigolo
Institution: Project Manager ASLTO3 (Piedmont Region) - Expert Patient 3 Course (Eupati)nPhD Student in Science Education - University of Turin
Country: Italy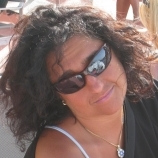 Health Coordinator and project manager at the Hospital Gradenigo of the "Congregazione delle Figlie della Carità di San Vincenzo de' Paoli". She worked at the Faculty of Medicine and Surgery of the University of Turin as a clinical tutor of Course in Nursing, acquiring skills in training planning and taking small groups.

Sabrina was occupied for a few years of training of health personnel, especially the organizational and logistical aspects. She was dedicated to the research of new teaching methodologies and teaching techniques in the health field. Sabrina Grigolo graduated in Pedagogy – expert in training processes, University of Turin (Italy) and in Nursing Science, University of Turin.

She is a professor at Oriental Piedmont University (helping relationship course for nursing students). She is fund raiser certified and preparing for PMP exam (Project Management Professional certification of the Project Management Institute).
Area/s of Expertise: New Teaching Methodologies, Teaching Techniques in the Health Field.