Adelina Sporea
Institution: National Institute for Laser, Plasma and Radiation Physics, Center for Science Education and Training
Country: Romania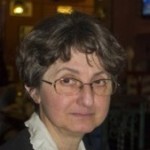 Adelina Sporea graduated the Faculty of Chemistry at Politehnica University in Bucharest, and she has a PhD in materials science research. Adelina is senior research scientist at the National Institute for Laser, Plasma and Radiation Physics in Bucharest and she also works for the Center for Science Education and Training – CSET developed at the Institute.

She is involved in many European and national funded projects and between 2010 and 2014 she was in charge of the day-to-day management of two FP7 educational projects that CSET coordinated in Romania, "Fibonacci" and "CreativeLittleScientist". Now she coordinates in Romania one Comenius, one Erasmus+ project and the i-BEST national project which aims to develop inquiry-based activities for school students and teachers.

Adelina developed an e-learning platform for primary and middle school teachers. She is also co-author and trainer for the accredited courses delivered by CSET for school teachers and she has co-authored two book chapters on science education in school policy and several papers on Inquiry-Based Science Education.