Rupa Madyal
Institution: Chemistry department, S. I. W. S. N. R. Swamy College of Commerce & Economics & Smt. Thirumali College of Science
Country: India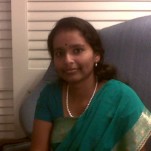 Dr. Rupa Madyal is an Assistant Professor, Department of Chemistry in S.I.W.S. College, Mumbai (INDIA) for the past twelve years. She is working as a chemistry faculty. She is Institute's Programme Officer of National Service Scheme (N.S.S.), involved in various social activities with the students of undergraduates. She combines excellent technical knowledge with good management skills and clear, confident communications abilities.
Dr. Rupa has excellent presentation skills and was selected for the Best Research Student Award in the Institute of Chemical Technology, Mumbai, (INDIA) during her second year of Ph.D. in the Institute. At the end of the her Ph.D., she bagged the Best Presentation Prize in a specialized conference on separations that was held in Indira Gandhi Centre for Atomic Research, Kalpakkam (INDIA).
She is often invited to deliver a lecture and to conduct practice session on Molecular Modeling in many Institutes. Her work has been published in well known journals of international repute, such as Industrial and Engineering Chemistry Research, RSC Advances and Desalination and water treatment. Dr. Rupa is competent teacher and researcher in chemistry. Her areas of research interest include applications of computational methods to investigate Organic Reaction Mechanisms of catalytic reactions to design better catalysts and to investigate Bio-organic and Bio-inorganic complexations in biosciences.