Petr Mareš
Institution: Scientica Agency Ltd.
Country: Czech Republic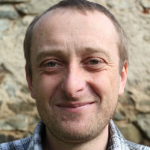 Petr Mares is a director of the Scientica Agency – Prague-based creative company – and coordinator of projects Academy of Geoinformatic Skills, Tabletarium and ESERO CZ (educational office of the European Space Agency for the Czech Republic).

He graduated in environmental sciences at the Charles University in Prague, he did a Ph.D. on using geoinformatics and satellite imaginary to study long-term landscape changes – these topics he also worked on at the University of Joensuu in Finland and at the Slovenian Academy of Arts and Sciences in Ljubljana.

Petr has been intensively involved in development of modern educational approaches during last seven years, including the use of tablet and smartphone tools in classrooms, laboratories, in field works or within interactive exhibitions. He likes intersection of scientific topics with artistic creativity in preparation of educational resources and believes that new programming possibilities makes a really break-point to classical meaning what education or learning process can offer.