Fernando Aguilar
Institution: Universidad de Burgos, Department of Electromechanical Engineering
Country: Spain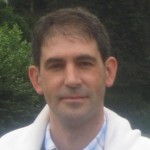 Fernando Aguilar received the M.S. degree in industrial engineering, specialised in Mechanical Engineering, from the Distance Education National University (UNED), Spain, in 2000 and the Ph.D. degree in Energy Engineering from the University of Burgos, Spain, in 2010.

He has been employed in the Department of Electromechanical Engineering at the University of Burgos, Spain, since 1989, holding the position of Assistant Professor since 1993.

His academic expertise includes engineering thermodynamics, heat engines and energy technology. His current research interests are experimental determination of thermodynamic properties of fluid mixtures, energy efficiency systems in buildings and industrial processes.

He is also member of the innovation & teaching group "Active Learning and e-learning in Engineering" at the University of Burgos. Within this group, some contributions on e-learning, active learning and engineering education research projects have been developed.