Emmanuella Di Scala-Fouchereau
Institution: CIMEOS laboratory - University of Burgundy
Country: France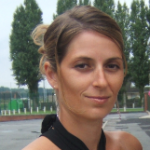 Emmanuella Di Scala-Fouchereau is an Associate Professor in University of Burgundy and teaches at School Superior for Teaching and Education of Dijon (ESPE). She is a full member of CIMEOS, a laboratory dedicated to Communication Science.

She graduated in Cardiac Physiology from the University of Tours in 2004. She first worked in the field of cardiac physiology at Tours and then in the field of Science Learning and Teaching Methods in the University of Burgundy since 2010.

From 2004 to 2010, she was a primary and gymnasium school teacher. Consequently her research projects focus on this specific area of education, dealing with science literacy. Her research is mainly based on Giordan's allosteric model.

She has developed partnerships with Burkina Faso and Poland and with various primary and high schools. She is the coordinator of the Master in Teaching Biology at the Pedagogical Institute of Dijon. She is also a jury member for the National Biology Teacher Recruitment.