Isabel Jiménez Bargalló
Institution: Departament de Didàctica de les Arts i les CiènciesnFacultat d'Educació, Traducció i Ciències HumanesnUniversitat de Vic (Barcelona)
Country: Austria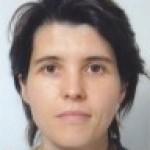 Isabel Jiménez is member of the CODi, a research group from the Faculty of Education, Translation and Human Sciences (Vic University).

She graduated in Biology –Universitat Autònoma de Barcelona- in 2000 and Pedagogy –Universitat de Vic- in 2010. Since then she has been working as a Science Profesor in the University of Vic.

Her current research is included into the framework of construction and evolution of preservice science teachers' Pedagogical Content Knowledge. Specifically, her research focuses on PCK for Model Centered Instruction.

Although the line described above constitutes the backbone of her current research, there are other issues for which she is also interested and develop in parallel:
- The use of science notebooks in Primary Education and in University Preservice courses.
- Scientific communication in classrooms.
- The development of scientific models in Primary students.