Manthos Santorineos
Institution: Professor at Athens School of Fine Arts
Address: 256 Peiraios st
Postal Code: 182 33 Rentis
Country: Greece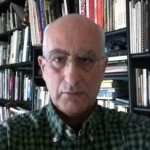 Manthos Santorineos (New-media artist - researcher) is an Associate Professor at the Athens School of Fine Arts.

Diploma in Painting at the Ecole Nationale Supérieure des Beaux-Arts, Paris 1979, Master and PhD at Esthétique, Sciences et Technologies de l'Art, Université Paris 8, 2006

Manthos, since 1984, has been active in promoting the digital culture, having established the Department of Art and Technology at the Tounda Centre (1987), the Fournos Center for Digital Culture (1991) and the Mediaterra Festival (1998).

Since, 2000 he is responsible for the multimedia lab at the Athens School of fine Arts. From 2012, he is also the Co-Director of the Greek – French Masters Course "Art, Virtual Reality and Multi-User Systems of Artistic Expression", ASFA - Paris-8 University

He has participated in various festivals, conferences, committees and seminars concerning education and digital technology, and computer games

He is the author of the Books
«De la civilisation du papier à la civilisation du numérique», L'Harmattan, Paris 2007
and "Gaming Realities"(Editor),Fournos Center, Athens 2006

Santorineos been honored by the French government with membership in the "Order of Academic Palms".