Susana Henriques
Institution: Universidade Aberta
Address: Palácio Ceia, R. Escola Politécnica, 141
Postal Code: 1269-001 Lisbon
Country: Portugal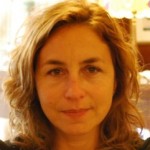 Susana Henriques is a professor in Education and Distance Learning Department of Universidade Aberta, the only institution of public higher education in Portugal of Distance Learning; and a researcher in CIES-IUL, a research unit belonging to ISCTE - University Institute of Lisbon and, more specifically, its School of Sociology and Public Policy.

Susana graduated in Sociology from ISCTE – University Institute of Lisbon in 1995. In 1997 she had a master in Communication, Culture and Information Technologies. And in 2007 had a PhD in Sociology – Education, Communication and Culture. Both from ISCTE – University Institute of Lisbon.
Her main areas of interest are:
- Sociology of education and communication – eLearning; media literacy;
- Sociology of consumption and psychoactive substances;
- Sociology of youth;
- Sociology of class and class stratification;
- Educational leadership;

She has being involved in degree programmes of 1st cycle, post-graduation, 2nd cycle, 3rd cycle and Long Lifelong Learning Courses. Mainly in the areas of research methods, education in nowadays society and theory of educational organizations management. All are taught under eLearning.
At the present she is the coordinator of Training Couse of e-Trainers that is being offered to other public higher institutions in Portugal and Brazil.

Susana has experience as a speaker at International Conferences and she has several scientific publications in her research areas.