Paweł Penszko
Institution: Instytut Badań Edukacyjnych
Country: Poland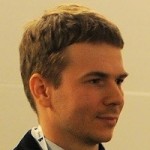 Paweł Penszko is currently a Researcher in the Educational Research Institute (Warsaw, Poland). He is also an expert member of the Human Capital Operational Programme Evaluation Steering Group. His main area of interest is program evaluation.
Paweł was born in Poland in 1979. He earned his master's degree in sociology from Warsaw University in 2004. He worked as a researcher and analyst in private research agencies and was involved in more than 150 research projects. He has conducted many counterfactual impact evaluations using various statistical techniques and delivered training in counterfactual methods.
He has authored several articles and is a coauthor of many evaluation reports. In 2014 he received the Lider Ewaluacji Award for the best evaluation study conducted in Poland since 2004.