Daniel Andronache
Institution: Babeș-Bolyai University
Address: 7, Sindicatelor Street
Country: Romania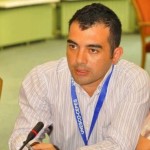 Daniel Andronache, PhD, is an Assistant Professor at the Department of Educational Sciences, Babeș - Bolyai University, Romania. He is also a postdoctoral researcher in the field of educational sciences.

He is graduate in pedagogy (since 2008), master degree in school counseling (since 2010) and PhD in educational sciences (since 2013).

Daniel Andronache' main fields of interest include: competence-based curriculum design, teacher trening, and educational management.