Raniero Chelli Chelli
Institution: Sophia R&I
Address: Viale Pasteur 78
Postal Code: 00144
Country: Italy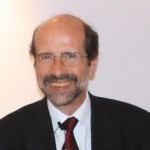 Raniero Chelli received his University degree in Physics in 1979 and has over 25 years of experience in international projects with specific reference to EU funded programmes in RTD and international cooperation. Project Management, Communication (personal and institutional) deep knowledge of both public and private sector deriving from experiences as a civil servant (including with the European Commission), as an entrepreneur and a free lance Consultant and as a professional trainer in the area of designing European Projects. Under this respect he has been responsible for the Research and Development module of the Master course on "Eurodesign" organised by Polytechnic of Turin in 2000-2001.
He is currently President at Sophia Research and Innovation, and Italian not for profit association specializing in Eu projects especially focussing on Advanced Training and Education, IT applications and healthcare. He is also a partner and member of the Board of Directors of Sophia srl, a private company active inter alia in the area of IT consultancy and SW development.
He has an extensive experience in both project management, dissemination and quality control procedures as he has been responsible for the quality control in a number TEMPUS and FP7 projects in the last three years.