Leoniek Wijngaards-de Meij
Institution: Utrecht University
Address: Postbus 80011
Postal Code: 3508 TA
Country: The Netherlands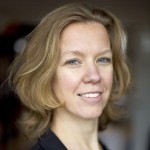 Leoniek Wijngaards-de Meij is assistant Professor at the department of Methodology and Statistics of the Faculty of Social Sciences at Utrecht University.

Leoniek will be the director of education of the Department of Methodology and Statistics starting 1st of September 2015. In previous years she has been involved in different aspects of monitoring the quality and innovative approaches of University teaching. She has been the chair of the Educational Committee of the Faculty of Social Sciences and has been elected to participate in the course Leadership in innovation in Education.

In 2014 Leoniek received a grant on innovative education for her project 'visibility of alignment within the curriculum'. For the project she has developed a webtool that gives both students, teachers and curriculum builders an instant overview of a specific topic over the (e.g. bachelor) curriculum.

She is involved in several research projects and is the coordinator of the research project on the new way Utrecht University tries to help students choose their study/major, and how this new approach is related to study success.