Roxanne Wong
Institution: City University of Hong Kong/University of Jyväskylä, Finland
Address: 28 G Block 5 Highland Park
Postal Code: 00000
Country: Hong Kong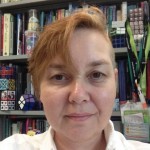 Roxanne Wong is an Instructor in the English Language Centre of City University of Hong Kong. She is a member of the departmental assessment team and a member of an inter-institutional project on diagnostic assessment.

Roxanne received her Bachelors in History from the University of West Florida. She later went on to obtain a CELTA from Cambridge University and a Post Graduate Certificate of Education in Teaching from Hong Kong University. She earned her Master of Applied Linguistics in 2008 from Hong Kong University in Hong Kong and has been teaching English in Hong Kong since 1994. She is currently reading for a PhD in Applied Linguistics at the University of Jyväskylä, in Jyväskylä, Finland.

Her area of specialization is in assessment for learning and the development of learner autonomy in students. She has had six years of experience working in the City University Of Hong Kong Self Access Centre as a language advisor and has worked on numerous projects to develop learner autonomy both in her own university and others. She has also worked with a Hong Kong Private boys' school in the same field.

She has presented globally on the topics of assessment, learner autonomy and vocabulary development. Her longitudinal projects have included the study of AWL (Academic Word List) vocabulary acquisition in primary aged students', a longitudinal study on developing learner autonomy in English language learning for university aged students and is currently undertaking a cross-cultural/cross-national study on the development of a scoring instrument for an automated essay scoring system.

She has been teaching in Hong Kong for 21 years and also has 3 years teaching experience in Germany and another 3 years experience in the United States.