Dirk Donath
Institution: Bauhaus University Weimar
Address: Leibnizallee 19
Postal Code: 99425
Country: Germany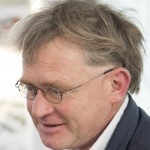 Dirk Donath studied in Architecture 1981 - 1986. He got his degree as a Doctor-Engineer in Design Methodology in Architecture 1988. Since 22 years, Dirk Donath is a Full Professor in Germany at the Bauhaus University Weimar and a Chair holder in "planning systems" at the faculty of architecture.

Over the last twenty years, he works as a Consultant for international projects and mentor for projects in research and practice in Europe, South America and Africa. Dirk Donath holds an honorable professorship at the Universidad de Santiago de Cuba in Cuba since 2007.

He brought numerous PhD students and post doctorate students to a professorship and leader in the building industry. Dirk Donath published numerous international publications and two awarded books for planning issues. His discussion forums and speeches on International Conferences to present the academic and practice projects and the theoretical background. Donath many grants and scholarships from the industry and government.

Over twenty-five years, he works as a practicing and full licensed Architect and partner at his architectural office "nitschke-donath architect ltd" in Europe and China, realizing a variety of projects in the areas of social housing, educational, public and cultural buildings. His office served many projects in the area of maintenance and renovation, public buildings, and won various architectural competitions with first prizes too.

Since 2008, Dirk Donath teaches as a Visiting Professor in the field of "Building Construction" at EiABC - Ethiopian Institute of Architecture, Building Construction and City Development at the Addis Ababa University. He developed and realized various showcases for a different way of building to show up alternatives in material, construction technology and implementation. Based on an international research project "concept-test-realization" in 2012-2014, he built houses for urban areas in Ethiopia in a scale of 1:1 for a realistic as well as future orientated proposal. The prototype SICU won the 3rd prize of the International HOLCIM award in 2014.

In his academic and practical career in Ethiopia and Germany, he is doing various research projects almost expressed with experimental prototypes as a proof of concept. He is specialist on affordable building layout, construction systems and planning principles.