Fiorentina Russo
Institution: St. John's University
Address: 8000 Utopia Parkway, Queens, New York
Postal Code: 11439
Country: United States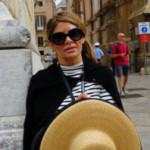 Fiorentina Russo, holds a Ph.D in Italian from New York University and Associate Professor and Coordinator of Italian at St. John's University. She is the author of a book on Dante Alighieri entitled "Dante's Search for the Golden Age ".
Prof. Russo has dedicated her career to the study of Italian in the US and has taught Italian at several private and state and city universities and colleges in the New York area, under the auspices of CUNY (City University of New York), SUNY (State University of New York), Long Island University, and the IACE (Italian American Committee on Education).
Almost a decade ago, Prof. Russo began pioneering short term study abroad program at St. John's University's Rome campus. In addition to teaching pedagogy, Dr. Russo's research interests include Dante and medieval studies, literary translation, Italian dialect literature, teaching technology and the Italian opera.