Silvia Dell'Acqua
Institution: Vesalius College
Address: Pleinlaan 2
Postal Code: 1050
Country: Belgium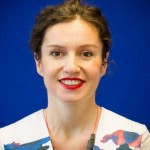 Silvia Dell'Acqua holds a Master of Science in "European Politics and Governance" from London School of Economics and Political Science and graduated in "International and Diplomatic Studies" at the University of Trieste (Gorizia Campus). She started working on eLearning, European education and training policies at Istituto per gli Studi di Politica Internazionale (ISPI) in Milan, then she worked for more than six years in research and communications at the research institute of the Ministry of Education in Florence, at the Italian Lifelong Learning Agency (INDIRE) where she focused on the pedagogical methodology and implementation of Information and Communication Technologies in European and national educational projects (eTwinning). In 2010 she joined the European University Institute as Outreaching and Networking Coordinator of Consortium for Applied Studies on International Migration (CARIM) then she worked for four years at the Global Governance Programme, firstly setting up the Academy of Global Governance, aimed at high level executive training of diplomats, senior officials and academics, then she became Coordinator of the Research Areas in Climate Governance, Global Economics, Cultural Diversity and Transnational Governance. From October 2014 she joined Vesalius College in Brussels, the international campus of the
Vrije Universiteit Brussel (VUB), where she is currently Director of International Programmes, Projects and Outreach.


Areas of expertise: EU Governance, transnational educational cooperation, higher education, executive training, applied research, eLearning, research internationalisation, institutional marketing and networking, corporate social responsibility.