Anabela Serrão
Institution: Instituto Universitário de Lisboa - ISCTE-IUL, Centro de Investigação e Estudos de Sociologia - CIES-IUL
Country: Portugal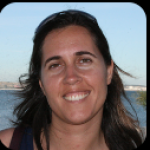 Anabela Serrão is a PhD student at ISCTE-IUL – University Institute of Lisbon.

She graduated in Sociology from the Universidade Nova de Lisboa in 2003 postgraduated in Data Analysis for the Social Sciences from University Institute of Lisbon in 2007. Since then she has been working in the field of sociology and education.

Anabela Serrão was the Portuguese National Project Manager of PISA – Programme for International Student Assessment of the OECD (2008 – 2011) and the Portuguese National Research Project of ESLC – European Survey on Language Competences of the European Commission (2009 – 2011). She was also deputy director of Educational Evaluation Office of the Portuguese Ministry of Education (2009 – 2011).

So far Anabela Serrão have been enrolled in several research projects related to the study of the impact school level (primary and secondary) in youth employment, the qualifications of Portuguese active population, and more recently, the study of electronic student assessment.