Carlos Pinto-Ferreira
Institution: Instituto Superior Técnico - IST-UL Institute for Systems and Robotics - ISR
Country: Portugal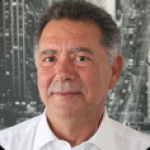 Carlos Pinto-Ferreira is associate professor at Instituto Superior Técnico – University of Lisbon. He is also senior researcher at Institute for Systems and Robotics.

Graduation in Electrical Engineering – Electronics and Telecommunications – from the Technical University of Lisbon in 1974.
Master of Business Administration (MBA) from the New University of Lisbon – Faculty of Economy, in 1983.
PhD on Electrical Engineering – Artificial Intelligence – from the Technical University of Lisbon in 1991.

Main interests and areas of expertise include Planning in Artificial Intelligence, Systems and Control, Large Scale Information Systems and Education.

Vice-president of the Portuguese Foundation for Science and Technology (1997-2001).

Director-general in the Portuguese Ministry of Education (2005-2011).

Portuguese representative to the Program Governing Board of PISA – Programme for International Student Assessment (2006 – 2011).

He has been involved in Educational Evaluation programs, among other appointments.