Nebojša Radić
Institution: University of Cambridge
Address: Downing Place
Postal Code: CB2 3EL
Country: United Kingdom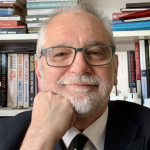 Nebojša Radić is the Director of the University-wide Languages Programme (CULP) at the University of Cambridge, UK.

He earned his PhD in Creative Writing and Literary Self-Translation from the University of East Anglia (Norwich, UK), an MA in Teaching with Technology from the University of British Columbia (Vancouver, Canada), and an MA (Auckland, New Zealand) and BA (Belgrade, Serbia) in Italian Language and Literature.

His academic interest ranges from the methodology of language teaching in blended and distance modes of delivery, teacher training, online resources design and development, creative writing, multilingualism, intercultural competence and communication, translingual literature and literary self-translation.