Christine Fredriksson
Institution: Department of Languages and Literatures, Gothenburg University
Address: Renströmsgatan 6
Postal Code: Box 200
Country: Sweden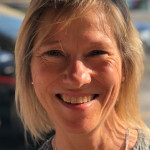 Christine Fredriksson is Assistant Professor in German at the Department of Languages and litterature at the University of Gothenborg, Sweden.

She graduated with a thesis about developmental patterns in learner language at the University of Uppsala/Sweden in 2006. Her research interests are the acquisition and development of grammatical structures in learner language, learner interaction in CALL/CMCL, from a psycholinguistic perspective, and L2 acquisition theory. Her teaching concerns courses in German language on different levels, courses in German linguistics, and courses in teacher training.

In one of her projects she investigated the influence of text-based chat on interaction and language learning in academic learning community.

Christine has been a coordinator in European networks, focusing on second language learning and in-service training for teachers.
She has coordinated a project for The Swedish National Agency for Education, in-service training for language teachers in Sweden: Written production and interaction.

Areas of expertise: Higher education, school education, second language learning, CALL/CMC, written L2-production.