Maria Stepanova
Institution: Moscow State Institute of International Relations (University) of the Ministry of Foreign Affairs of the Russian Federation (Odintsovo Branch)
Country: Russian Federation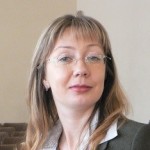 Maria Stepanova is an associate professor of St. Petersburg State Polytechnical University, Applied Linguistics Institute (Russia). She is a deputy to the Head of the Linguistics and Cross-Cultural Communication Department.
Maria graduated in Chemistry & Foreign Language Education from Russian State Pedagogical University in 1997. She defended her PhD in Education in 2000. In 2006 she graduated in HR Management from the Academy of Management Methods and Techniques that allows her to enhance her expertise in education management.
Maria Stepanova is an expert in teaching business English and translation, developing curricula and managing the process of FLT in the university.
Maria regularly takes part in international conferences in the field of linguistics, translation, education and training. She regularly gives lectures to FL teachers on the modern approaches and methods of teaching. Maria is an author of more than 100 publications, including articles, guidelines for teachers, textbooks.