Emilia Maternik
Institution: Institute of Linguistics Adam Mickiewicz University Poznań, Poland
Country: Poland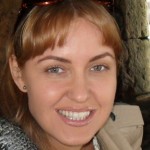 Emilia Maternik has been employed as a lecturer at the Institute of Linguistics at Adam Mickiewicz University in Poznań, Poland since 2002. She is Head of the Institute's Teaching Materials Preparation and Evaluation Lab. She coordinates the work of the teachers who run English courses for first-year students of Ethnolinguistics, Linguistics and Information Science, and Computational Linguistics. Emilia Maternik is also a member of the Council of the Institute of Linguistics.

Her research interests focus particularly on sociolinguistics, comparative syntax and language acquisition. Her passion for language combined with her hobby of horse riding have motivated her to begin her PhD studies on the customs and language of the Polish and British equestrian communities.

As a teacher of English for Special Purposes, she is constantly developing her expert knowledge in various business areas, including logistics, IT, banking, insurance, sales, advertising and psychological coaching.

Emilia Maternik was involved in staff training programmes for several business organisations based in the city of Poznań. The courses covered such topics as customer service improvement, partnership development and communicating business matters in foreign languages, especially English as a lingua franca. Planning and organising the classes led to the creation of new teaching techniques tailored to students' psychological profiles and individual requirements. This customised teaching service turned out to be a great success. Emilia takes advantage of the observations and discoveries which she made during these training programmes while teaching, and also uses them as the subject of conference presentations.