Klara Synkova
Institution: Charles University, Prague
Country: Czech Republic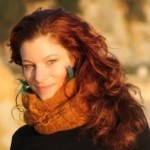 Klára Synková is a Math and English graduate from the University of Hradec Kralove. Since 2003, she has been involved in all level of English teaching process.

Professionally, she focuses mainly on preparation for Graduation Exams and on CAE and CPE courses.

Apart from teaching English and Math at Lauder Secondary School in Prague and at the Pedagogical Faculty of the Charles University, she uses her extensive dance and musical training to broaden the subject scope. Her recent holistic projects are full play or full musical rehearsal with students, merging thus performing arts and English language as a subject. After the adaptation of The Lion King, she is now preparing The Phantom of the Opera for lower secondary students.

Currently, she is also involved in bringing a cross curriculum approach to classes using National Geographic materials, videos, articles, interviews, etc., to actively bring IT into practical use and integrate critical thinking and creativity elements into academic field.