Linda Pospisilova
Institution: University of Pardubice, Language Centre
Country: Czech Republic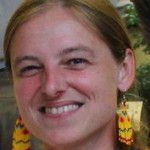 Linda Pospisilova works as a lecturer at the Language Centre, University of Pardubice.
She teaches English for Specific Purposes and English for Academic Purposes in Bachelor, Master and Doctoral programmes of the Faculty of Chemical Technology. She is responsible for the key activity of the ESF project UNICOM, dealing with eLearning, blended learning, online course design, ePortfolio management and M.A.L.L.
She graduated from English language teaching at the University of Pardubice. She used to teach English language applying principles of Dalton education and taught English for Business and Banking in company courses.
Apart from teaching activities she also deals with LMS tool management, ePortfolio training and implementation, and mobile assisted learning.