Maria Piedade Silva
Institution: Agrupamento de Escolas de SátãonCECC – Centro de Estudos de Comunicação e Culturan Universidade Católica Portuguesa
Country: Portugal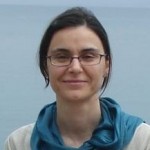 Maria Piedade Carvalho Silva teaches English as a Foreign Language in Agrupamento de escolas de Sátão. She is a researcher of the CECC (Research Center for Communication and Culture of the Universidade Católica Portuguesa (UCP).

She graduated in Modern languages and Cultures- English and French studies from the University of Coimbra in 1993 and defended her MA thesis in 2004 and PHD thesis in 2013 in Linguistics and Teaching Foreign Languages.
She has been teaching French and English in secondary schools and doing research in Foreign languages Teaching Methodologies and the use of ICT and eTwinning in teaching languages.

Maria Piedade Carvalho Silva has experience in the planning and management of European school partnership projects under Comenius programme and eTwinning. She has been coordinating European Studies in her school since 2007. She was awarded the European Label for innovative projects in language teaching and learning for two of her projects: "LOA e Twinning project- Learning from One Another" (2009) and "Photography as a Pedagogical Tool" (2013). She has been awarded with national and European eTwinning quality labels for several eTwinning projects she has designed and developed.
Maria Piedade Silva has participated as a speaker at International Conferences to present papers reporting on the results of research, her European cooperation experiences and the European projects in which she is involved.