Annika Jokiaho
Institution: Ludwigsburg University of Education
Country: Germany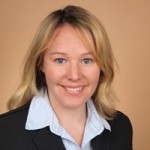 Annika Jokiaho is a specialist in ICT Learning and a Lecturer in Computer Science at the University of Education Ludwigsburg.

She graduated in Educational Science from the University of Eichstätt-Ingolstadt in 2002 and worked for five years in the field of advanced training before she joined the Department of e-Learning at the University of Education Ludwigsburg in 2006, where she is responsible for the pedagogical aspects of e-Learning. She is consulting and supporting all lecturers at the University of Education Ludwigsburg concerning the use of e-Learning in teaching scenarios.

Annika Jokiaho is an expert in pedagogical issues, developing interactive teaching materials, teaching methods for online learning and web 2.0 technologies. She is currently doing her PhD in Computer Science focusing on the development of teaching methods for e-Learning.

So far Annika Jokiaho has been involved in different projects of German Universities and is at present participating in the INTACT project, a multilateral Comenius project, funded under the Lifelong Learning Programme of the European Union.