Györgyi Kovács
Institution: Eszterházy Károly University of Applied Sciences
Country: Hungary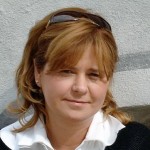 Györgyi Kovács is an assistant professor at the Department of English Studies at Eszterházy Károly University of Applied Sciences in Eger, Hungary. She is also a pre-service and in-service teacher trainer, international facilitator for the British Council, inspector of the Language Schools' Professional Association in Hungary and the founder of the Language Pedagogy Research Group. She takes part in several international and joint master teacher training EU projects.
Research areas: applied linguistics, foreign language pedagogy, using modern technology, online teaching materials, mobile applications in language education.
She is the member of several national and international organizations: International Asssociation for Teachers of English as a Foreign Language, European Association for Computer-Assisted Language Learning, Association for Teacher Education in Europe, European Society for the Study of English, Hungarian Society for the Study of English, Hungarian Association for Applied Linguists.