Soldatova Lesia
Institution: Borys Grinchenko Kyiv University Ukraine
Country: Ukraine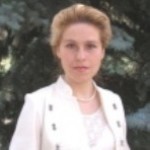 Lesia Soldatova is the associated professor in Borys Grinchenko Kyiv University.

She graduated the National Pedagogical Dragomanov University in Kyiv in 1997. Since then she has constantly been working in the field of linguistics and foreign language teaching.

Lesia Soldatova is an author of 37 articles focusing in particular on the areas of linguistics and trainings and 4 workbooks for schoolchildren and students, took part at 37 International conferences.

Lesia Soldatova is often invited as a speaker at International Conferences to present her experiences.