Masami Suzuki
Institution: KDDI R&D Laboratories, Inc.
Country: Japan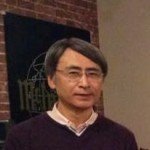 R&D Manager, KDDI R&D Laboratories, Inc.
Ph. D. of Tokyo Institute of Technology, 2003.
Applied Natural Language Processing, Human Communication-related Studies

Masami Suzuki was born in Tokyo and graduated from Keio University.
After joining KDDI corporation, one ofmajor telecommunication companies
in Japan, he has been engaged in Natural Language Processing (NLP) and
human communication-related research area including learning media.
He is personally interested in Haiku known as the world-shortest poetry,
that is the strating point of his idea on "concise communiation" style,
as well as new reserch horizon of kansei (affection) communication.
His hobbies are listening classical music and fine art appreciation.