Ioana Constantin
Institution: Institute for Educational Sciences Bucharest, Pro Ingenio School Bragadiru
Country: Romania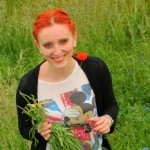 Ioana Constantin is an assistant researcher at the Institute for Educational Sciences in Bucharest and a project coordinator at a private school in the same town (the Pro Ingenio School).

She graduated the Faculty of Letters and Sciences at the Petroleum and Gas University of Ploiesti in 2008. In 2011 she completed a master degree in Education at the same University with a dissertation on multiple intelligences and project work.

Since 2011, Ioana Constantin is a doctoral student in Sciences of Education at the University of Bucharest. Her doctoral research is on authentic learning.

Between 2012-2013 she was an expert in a national project that focused the development of the students' reading competences. At the Institute for Educational Sciences in Bucharest she is currently involved in a research project on reading practices as well as in curriculum development for primary education.

Since she completed her master degree in education, she has been working as a primary teacher and a project coordinator in a private school where she promotes innovative methodology and project work among students. Her last school projects are focused on communication competences in an integrated approach and ICT skills for personalised learning resources (wikis).

Since 2013 she has been responsible with the design of creative workshops for teachers as well as with developing the students' public speaking competences for those youth who are part of the Students' Council.