Richard Chapman
Institution: Università degli studi di Ferrara
Country: Italy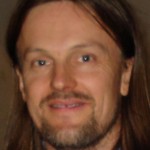 Richard Chapman is researcher in English language in the Department of Human Sciences in the University of Ferrara

He obtained a degree in history from the University of Cambridge in 1987 and a Master's in Teaching and Professional Development from the University of East Anglia in 2001. Throughout his career he has been involved in education, firstly as an English language teacher, then as a trainer and centre director. He is now employed full-time as a researcher in English language.

His main areas of interest are language teaching and testing, translation, corpus linguistics, current developments in the English language and identity issues in language use.

Richard Chapman spent many years as a Cambridge ESOL examiner and was involved in the Campus One project in Italy. He was responsible for the B1 On-line project in the University of Ferrara (2004-8), in addition to working with the Epigeum on-line course (2015-2017). He has also been responsible for provincial certification testing for Italian primary school teachers. In recent years he has been part of the Doctorate Programme on Sustainability offered by the University of Ferrara.