Tiziana Carpi
Institution: Università degli Studi di Milano – Dipartimento di Scienze della Mediazione Linguistica e di Studi Interculturali
Country: Italy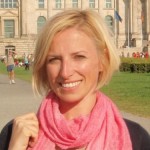 Tiziana Carpi graduated in Japanese Studies at Ca' Foscari University in Venice in 2000. In 2005 she obtained a MA in Japanese Applied Linguistics at the School of Oriental and African Studies (SOAS), University of London. Her research interest in CALL stems from her dissertation thesis which focused on the evaluation of software for Japanese language learning.

Since 2003 she has been teaching courses on Japanese language, Japanese culture and Translation at the University of Cagliari, University of Milano and Milano-Bicocca. In 2014 she was responsible, within the PAS-TFA programs, of an online course on blended learning for secondary high school teachers of Japanese and Chinese.

Tiziana Carpi is currently member of the Scientific Committee of the Italian Association for Japanese Language Teaching (AIDLG).

Tiziana Carpi's research interest focuses on Computer-assisted Language Learning (CALL) and more specifically on the use of Social Networking Sites (SNSs) for foreign language learning.

Tiziana Carpi is also member of the following Associations:

AIDLG (Italian Association of Japanese Language)
Member of the Scientific Committee for 2014-2016
AJE (Association of Japanese Language Teachers in Europe)
AISTUGIA (Italian Association of Japanese Studies)
EAJS (European Association for Japanese Studies)
EUROCALL (European Association for Computer-Assisted Language Learning) CALICO (Computer Assisted Language Instruction Consortium)

Tiziana Carpi is currently a Ph.D. Candidate in Civilizations, Cultures and Society in Asia and Oriental Africa, Sapienza University of Rome.