Irina Antonova
Institution: PhD, Associate Professor (Russian State University for the Humanities)
Country: Russian Federation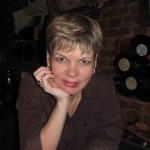 Irina B. Antonova
Institution: Russian State University for the Humanities
Address: Prospect Mira, 91-1-68
Postal Code: 129085
Country: Russia
Tel: +7-903-739-06-96
Email:
[email protected]
Irina B. Antonova graduated from the Moscow State Pedagogical Institute of Foreign Languages in 1979. Since then she has been working as an Assistant Professor (PhD in Methods of Teaching) in the Department of History, Political Science, and Law at the Russian State University for the Humanities (RSUH). She teaches a wide variety of courses, including speech communication, public speaking, and presidential rhetoric.
Irina B. Antonova is an expert in public, political and presidential rhetoric. Her research interests also include the issues of language and politics in their interrelation. Her research has appeared in a number of university journals.
She is also an author of two rhetoric textbooks ("Three P Rhetoric" and "English for Public Speaking"). Both of them are widely used by the students of the RSUH.
Irina Antonova is invited as a speaker at International Conferences to present her teaching experiences and research outcomes.