Elena Aniela Mancas
Institution: Institute for Educational Sciences
Country: Romania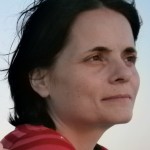 Elena Aniela Mancaș teaches Romanian language and literature at the Alexandru Vlahuță Highschool in Bucharest.

She graduated the Faculty of Letters of the University of Bucharest in 2003. In 2009 she completed a master degree on Language Teaching at the same University with a dissertation on innovative aspects in reading learning by means of transdisciplinary projects.

Aniela Mancas is a doctoral student since 2011 at the University of Bucharest.

Since 2009 she has been an expert in various national and international projects that focus language learning, the reading competence, key competences and innovative approaches to mother tongue study.

In the past three years she collaborated with the University of Ploiesti in a research project within the framework of the European Social Fund, with the UNICEF in projects for educational priority areas, with the University of Bucharest within the LIFT 2 project funded by the European Commision (the development of a European framework for literature study in secondary education).

She currently cooperates with the Institute for Educational Sciences in Bucharest within a national project that analyses the data from the PIRLS reading international study.

Aniela has developed creative teaching resources for the teachers who work with students at risk.