Andres Villagra
Institution: Pace University
Country: United States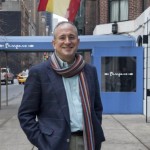 Dr. Andrés Villagrá is a Professor of Modern Languages at Pace University in New York City. He holds a Ph. D. in Spanish Literature, Language and Culture and a Master's Degree in Counseling Psychology and participated in numerous training workshops in applied technology for the classroom. Dr. Villagrá has taken over several leadership positions in academic governance, including Vice-Chair of the Faculty Assembly and Chair of Dyson Curriculum Committee. From 2011 to 2013, Dr. Villagrá has been an Associate Dean for Academic Affairs of the Dyson College of Arts and Sciences. Since July 2013, Dr. Villagra is leading adult education online initiatives for the Dyson iPace program, as well as January and summer intersession course offerings.
For the last 8 years, Dr. Villagra has been an innovator in applied-technology in the foreign language classroom. It started with the introduction of classroom blogs, the use of voice messaging for conversational homework practice, and the invitation of native guest speakers via video conferencing and Skype. The project "The Spanish Success Story" was originally created as an innovative, free e-Portfolio for a Spanish Intermediate Composition course in the Fall 2008. As part of the final project for this class, students were required to video tape an interview with a public official, professional or artist associated with Hispanic professional success in New York. This multimedia document would also include bilingual background information, and a lesson plan to use with material developed by the student. At the bottom of the page, a discussion forum included comments from Pace students and visitors alike.
In 2006, the search to develop a flexible, visually-rich, and innovative online environment lead to the creation of the wiki site "Spanish Lounge at Pace University". The model "Spanish Lounge at Pace University" project provided a social networking site for present students, alumni and other professionals and friends connected with the Spanish community at Pace University. The goal of this Spanish learning social network was to create a Web 2.0 content site that could be reused in cross-disciplinary courses. Students worked in a collaborative, public environment, which emphasized personal responsibility for their contributions as well as authorship over their creative research. By constantly adapting new contributions, textbook materials were adapted to each objective accordingly. You can read more about this experience in my article: "Developing Social Skills in the Foreign Language Classroom through Content Creation and Collaboration" FLLT Journal, pages 36-54. (
http://ejournal.litu.tu.ac.th/pdf/FLLT_Journal_Volume_2.pdf
). Presently this site is being moved to a newly created course shell in Blackboard.
Because of the groundbreaking teaching methodology at the time, the Spanish Lounge received attention from the press as well. The magazine Latinos New York (March 2008) published an article about this project called: "Dr. Andres Villagra, Our Educator of the Future." Also, the Spanish Lounge project has been included as one of the key features of the "Pace University Annual Report 2009-2010," as well as in The Pulse: "Pace Is Creating Collaborative Learning Spaces: The Spanish Lounge Uses Wiki, Facebook, and Blackboard Technology to Stretch the Skills of Foreign Language Students" (
http://thepulse.blogs.pace.edu/2012/11/03/the-professor-is-in-qa-with-andres-villagra/
).
Prior to becoming an Associate Dean, Dr. Villagrá developed a Spanish Applet at Pace University for the iPhone. In collaboration with a team of app student developers from the Seidenberg School of Computer Science and Information Systems and his students in the Advanced Spanish Composition course, the class project developed multimedia materials about Pace University and the Hispanic community in New York. This applet was primarily intended as a recruitment tool for prospective students and families from Spanish-speaking countries.