Helen Osieja
Institution: Folkuniversitetet
Country: Sweden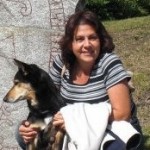 Helen Osieja was born in Mexico City, where she taught English and history at a local high school. In 1994, Ms. Osieja received an invitation from the Ruhr-Universität in Bochum, Germany to teach Spanish and Latin American studies. After working at the Ruhr Universität for 5 years, Ms. Osieja moved to southwestern Germany, where she taught at several German colleges, as well as at the University of Maryland University College, campus Schwäbisch Gmünd.

Ms. Osieja earned a Ph D in international relations in 2005 and published her dissertation Economic Sanctions as an Instrument of US Foreign Policy: The Case of the US Embargo against Cuba in the United States in 2006.

In 2009 Dr. Osieja moved to Sweden, where she started a MSc in Education. She completed her MS Ed in 2011 and published her thesis Indigenous Educational Policies in Yucatán and Swedish Lapland: From Social Exclusion to Integration in the summer of that year.

Currently Dr. Osieja teaches Business English, Business Spanish, Business German and International Trade at the Folkuniversitetet in Stockholm.

Dr. Osieja's latest book Pedagogy and Conscience: The Teacher as an Agent of Awareness, will be published at the end of 2014.