Elisa Pérez Gracia
Institution: University of Córdoba
Country: Spain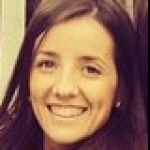 Elisa Pérez Gracia is a PhD student of the University of Córdoba. Her research field is about multi/intercultural education and methodological approaches to second/foreign language teaching.
She graduated in English Teacher in 2011. She has a master's degree in Bilingual Education (English for Professional Qualification: Intercultural Communication and Curricular Design).
Regarding her experience with international students, she has worked in two interesting areas: one of them as a teacher assistant in some multicultural schools in Bradford (United Kingdom) where she had the opportunity to research on the differences between British and Spanish school systems and the dissimilar teacher training programs; and the other in the International Office of the Faculty of Education Sciences of the University of Córdoba, guiding Erasmus students through their adaptation process.
Furthermore, She has been working as a teacher in a CLIL Center for two years.