Nadia Gatto
Institution: Consorzio ICoN Italian Culture on the Net
Country: Italy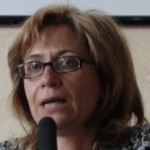 Nadia Gatto is the Head of the Language Learning Programs in ICoN.

She graduated in Foreign Languages and Culture at the University of Roma "La Sapienza" in 1993. Since then she has been working in the field of Language Learning and Teaching and Distance Education.

She is PhD in Linguistics and Didactics of Italian as a Second Language at the University for Foreigners of Siena, with a thesis about the new teaching models for online learning of Italian as a foreign or second language.

Nadia Gatto is an expert in the application of new technologies, and in particular e-learning technologies, to language learning.

She has been involved in the designing of software tools especially created for language learning, the planning of several online language learning courses, the developing of the new ICoNLingua Model for Online Language Learning, the training of the tutors.

On behalf of ICoN, she has also been involved, as manager or as partner, in several European projects concerning Language Learning and Distance Education.