Tore Nilsson
Institution: Stockholm University
Country: Sweden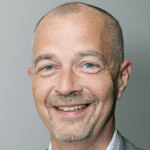 Tore Nilsson is a senior lecurer in language education at the Department of Language Education, Stockholm University. He is the director of PhD studies in language education and the deputy head of department.

Tore received his PhD in English linguistics from Uppsala University in 2001. He also holds an M.Ed. in foreign language teaching (1988) from the same university.

Tore has been involved in foreign language teacher education since 1995, and has extensive teaching and supervision experience. Tore has also taught English for specific purposes in adult professional education for 14 years.

Tore is the pedagogical co-ordinator at the Department of Language Education and regularly conducts development projects with a focus on digital literacy and resources in higher education. Tore is also connected to the Centre for development of higher education pedagogy at Stockholm University where he heads a Special Interest Group on teaching aspects.

Tore's main research interests are in the fields of pre-service teacher cognition and identity formation, the use of digital resources in language teacher education as well as in foreign language teaching, and form-focused instruction and assessment, with or without digital enhancement.

Areas of expertise: Language education and pedagogy, teacher cognition, digital literacy, active learning.