Tatiana Sidorenko
Institution: Tomsk Polytechnic University
Country: Russian Federation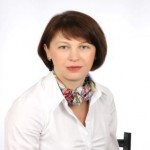 Tatiana Sidorenko holds PhD in pedagogy, works as the head of the Foreign Language Department at Tomsk polytechnic university and as well as a language instructor for Master students.

She graduated in Romance and Germanic Philology from Tomsk State Pedagogical University in 1998. Since then she has constantly been working in the field of teaching English as a foreign language and English for specific purposes.
In 2011 she defended her PhD theses focused on how foreign languages can influence the development of professional skills of engineering students.

Tatiana is an author of an academic writing course and a co-author of some skill-oriented courses as Debating, Argumentative Writing, Effective Communication in English, all of them are aimed at improving language communicative skills among undergraduate students who are willing to do a scientific research.

Tatiana has experience in European education, training and culture through several research and academic projects such as Tempus with universities, training organizations, and research centers.

Her recent project, where she acted as a coordinator, was funded by the Russian Ministry of Education and addressed the issue of modernization of language education in Russian technical universities. It resulted in development of some skill-oriented modules as elective courses within the language training that allowed to provide students more academic freedom and mobility. The courses are based on the blended learning approach that enables to combine properly electronic recourses and multimedia technologies with a traditional mode by means of MOODLE.

Her professional interests mainly lie in the field of foreign language methodology including a selection of resources, information and teaching technologies and different instruments to do learning and teaching more effective.

Addition to performance, Tatiana currently studies on the programme "Master in Business Administration" and she is involved into the development of strategies for university prosperity.