Barzan Hama Karim
Institution: University of Halabja
Country: Iraq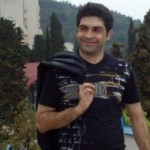 Hama Karim Barzan is the director of Student's Affairs from the university of Halabja.

He graduated in English Philology – Methodology of Teaching English language and Literature from the Kharkiv National Pedagogical University in 2010. Since then he has constantly been working in the field of teaching and learning English language and literature.

Hama Karim Barzan is a scholar in the areas of education, leadership, training and culture.

So far Hama Karim Barzan has been involved in many projects funded by the Kurdistan Regional Government/Iraq and USA State Department. He has developed and coordinated partnerships with several universities throughout Europe and USA.

Hama Karim Barzan is often participated in international conferences as a speaker to present his experiences in the field of Kurdish Higher Education in which he is involved.