Constantinos Tsouris
Institution: Language CentrenUniversity of Cyprus
Country: Cyprus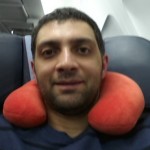 Dr. Constantinos Tsouris is working as Special Teaching Staff at the University of Cyprus Language Centre (English language section) and has been teaching English as a Second/Foreign language in Higher Education since 2003.

Undergraduate studies, University of Cyprus (BA in English Language and Literature, 2002). Graduate studies, University of Edinburgh (PG Dip in Psycholinguistics, 2005). Graduate studies, University of Cyprus (MA in Applied Linguistics, 2008). Doctoral studies, University of Sheffield School of Education (EdD in Language Learning and Teaching, 2014).

He is an expert in the fields of collaborative learning in the tertiary language classroom, of digital (Web 2.0) technologies in the ESP curriculum and in ESP curriculum design.