Tania Todorova
Institution: University of Library Studies and Information Technologies
Country: Bulgaria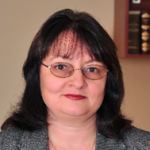 Tania Todorova is a Professor at the University of Library Studies and Information Technologies, (ULSIT), Sofia, Bulgaria. She is a Head of Library Sciences Department and Deputy Head of UNESCO Interfaculty Chair 'ICT in Library Studies, Education and Cultural Heritage'.
Tania Todorova graduated in Librarianship and Bibliography (B.A.) and Bulgarian Philology (M.A.). She is a Ph.D. in Book Science, Librarianship and Bibliography, PhD Thesis: "Journal "Bulgarski Knizici" (1858-1862) (In the context of the cultural history of Bulgaria in the 60-ty years of XIX century)" (2008) and Doctor of Science, 2018, Code of professional field: 3.5. Public Communications and Information Sciences, DSc Thesis: "Copyright Literacy of specialists from libraries and other cultural institutions".
She is an author of 4 monographies (Copyright Competence and Cultural Institutions, 2017; Integration Processes in Library and Information Sphere, 2014; Library Policies, 2010, 2nd ed. 2017; The Journal "Bulgarski Knizici" (1858 – 1862) on the verge of a New Epoch (with analytical database on CD), 2010), 1 Texbook (Project Management in Library and Information Sector, 2014), 9 collections and more than 80 articles.
Tania Todorova is a Member of the Board and PR of the BOBCATSSS Association (former European Association for Library and Information Education and Research (EUCLID); Member of the Forum UNESCO (FUUH); Union of Scientists in Bulgaria; Bulgarian Library and Information Association (Member of the Board 2004-2008). She is a member of Programme and Scientific Committees and peer reviewer of many international conferences in the field of library and information science such as ECIL, QQML, IMCW, New Perspectives in Science Education International Conferences (PIXEL, Florence), BOBCATSSS etc. Member of the Editorial Board and reviewer for International Journal of Library and Information Science (IJLIS, OAJ), Romanian Journal of Library and Information Science (RRBSI), Evidence Based Libraries and Information Practices (EBLIP) University of Alberta, Canada and for IFLA Journal.
Specializations abroad and international collaborations:
Lecturer Mobility in Erasmus+ Programme of EC: Mobility for Teaching at Instituto Politécnico do Porto, Portugal: May 2016 (ESEIG, IPP); October 2017, 2018, 2019 at School of Accounting and Administration of Porto (ISCAP, IPP).
Participation in international research groups and international scientific surveys: 2017-2020 Copyright Literacy Survey for LIS students (CoLIS) Project managers: S. Kurbanoglu, T. Todorova, Joumana Boustany. 13 countries; 2012-2020 Project Manager on International Survey "Copyright literacy of specialists from libraries and other cultural institutions" (2012-2020) and on international research project "Copyright Policies of Libraries and Other Cultural Institutions" (2012-2013)
https://copyrightliteracy.org/
;
https://copyrightliteracy.org/about-2/international-copyright-literacy/,17
countries; researcher at 2016-2018 Data Literacy Survey, 22 countries; 2015-2017 Academic Reading Format International Study (ARFIS) (2015-2017)
http://arfis.co/
, 25 countries; 2012-2014 Information Behaviors and Information Literacy Skills of LIS Students, 18 countries; 2012-2013 A Multi-Country Examination of Reference Service Competencies, 13 countries.
2011-2013 Project Coordinator and Lecturer in EU-ERASMUS Intensive Programme (IP). Library, Information and Cultural Management – Academic Summer School (IP LibCMASS). Awarded on the first place and received Certificate for overall quality performance between all projects, realized in Bulgaria in 2012, as part of the European program for education and training "Lifelong Learning".
2010 – 2011 – EU-ERASMUS Intensive Programme (IP) 2009. IPBib: Das Grimm-Zentrum – (k)ein Bibliotheksmärchen, one week lecturer mobility in Humboldt-Universität zu Berlin (2009); Universität Wien (2010); University Vilnius (2011). ULSIT Coordinator and lecturer.
Areas of expertise: Library Management, Copyright and Libraries; Public Relations; Digitalization; Project Management