Ruetai Chongsrid
Institution: National Science and Technology Development Agency, Ministry of Science and Technology
Country: Thailand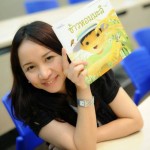 Ruetai Chongsrid is currently senior director of Academic Affairs and Youth Science Program Development Division, National Science and Technology Development Agency, Ministry of Science and Technology, Thailand.

She is responsible for designing programs to help youth explore their interest in science, developing creative thinking skills, motivate them to pursue careers in science, and training the teachers for developing curriculum and activities in STEM.

She has published numerous books on the subject of science education. The example of books ; Good young researcher like good chef, Science activities in the garden, Guidance for teacher to develop science camp, Fun science experiments, How to use science and nature to develop little genius.

The books she wrote or was editor got many national awards such as National good children book award , National honorary mention book award and Excellent children book award for promoting effective function.