Beata Jarosievitz Dr.
Institution: Dennis Gabor College Department of Technology and Economics
Country: Hungary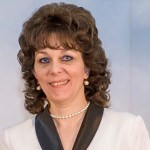 Beata Jarosievitz Dr. got an MSc degree in Physics in 1990.
After her graduation, she studied for years for getting the Dr. Univ. degree in Nuclear Techniques, at INT of the Technical University of Budapest in 1996.
The title of her thesis was: Gamma-spectrometry of extended sources for analyzing environmental samples.
She also got an MSc degree in Computer Science in 1999 at Roland Eötvös University.
Besides her work, she got an MA degree in public education management after completing a post-graduation course at the Technical University of Budapest in 2001.
She takes care of her talented students and motivates them to participate in the European Schoolnet Projects (EUN), since 2001.
Beata got her Ph.D. degree at Roland Eötvös University of Science Faculty of Philology in 2006. Title of her thesis: Opportunities of Information Technology (ICT) and Multimedia in Education (especially: Physics Education).
Besides her teaching activity and her ICT expert work, she also had the opportunity to coordinate many big projects at national and international levels. She also participated in several international projects launched by EUN (SPICE, SCIENTIX, etc.).
Between 2005 -2015, during 10 years she has been one of the Hungarian coordinators of the one-week teacher training course organized in CERN (CH) every summer.
Beata Jarosievitz Dr. Ph.D. in Education (Educational Research) is a college professor at Dennis Gabor College, where she teaches Physics, Electricity, Multimedia, and Computation Theory Fundamentals practices for students involved in the BSC program.
Beata is also president of the scientific students' Association (TDK) at Dennis Gabor College.
She also teaches ICT for students from the age of 6 to 18, at SEK Budapest International School.
Professor Jarosievitz, as a Hungarian national GIREP representative, organizer and the chair of the GIREP-ICPE-EPEC-MPTL Eötvös-Year 2019 Conference with highly appreciated strong work offered the opportunity for 318 delegates from 47 countries to come to Budapest (Hungary), from 1st -5th July 2019, to share their knowledge and experiences under the theme of "Teaching-learning contemporary physics, from research to practice. See:
https://girep2019.hu/welcome/
and:
http://www.girep.org/wp-content/uploads/2020/07/newsletter_2020_01-2.pdf
Beata has 135 publications, 72 independent cites, see her list of publications:
https://vm.mtmt.hu/www/index.php?AuthorID=10002973
#
She has many awards, the last one is: 2020 Prometheus medal and 2019: GIREP 50 Anniversary Medal (
https://sukjaro.hu/jb/dijak-elismeresek/#Girep2019
)
Areas of expertise: higher education, school education, e-learning, hands-on-experiments, BYOD, use of flip classroom method. For more information see:
http://sukjaro.eu/JBea/pdf/jb_Europass_2016_English_forweb.pdf